---
Monday separated and reunited on exploration and encounter. Our center is: Jesus, see cover picture!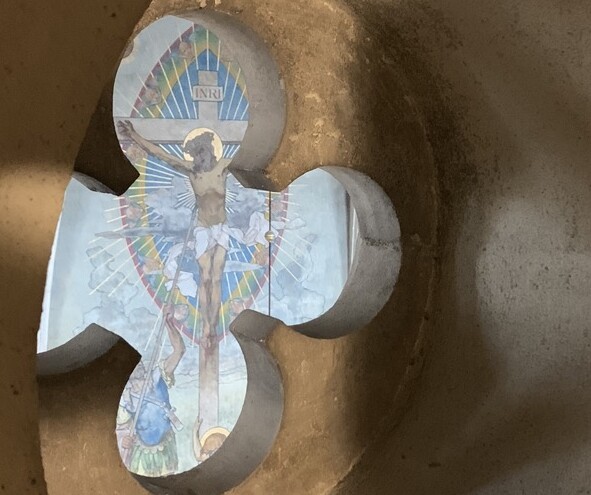 While Simona, Laze and Christoph were walking from one church to the next, Emanuela, Jonatan, Luka and Frank went to the swimming pool "Auster" in Eggenberg.
After two intense days spent together as a whole group, this was a good alternative.
And while some were educated, the others had fun swimming, playing volleyball and jumping from the swimming tower.
Yes: Pastors can not only preach but fly!
At 4:30 pm we met again to do a joint church tour and tower climb in the Herz-Jesu Church.
Christoph had procured the keys and so we were able to experience a great adventure: Through narrow spiral staircases up to the church roof, there over footbridges to the tower, further over exposed stairs to the platform and then with a 25 meter ladder to the final point.
Everyone was free to say how far he or she was willing to go - that is the key to a successful adventure.
On Monday evening we were invited to dinner at Felizitas and Christoph. There was not only a delicious selection of strudels for dinner (THANK YOU Felizitas!) but also time for good conversations and exchange. From the Chinese group Han, Lichiou, Shih-Cheh and Yun-Fee were there, Karin and Johannes stayed for dinner and at a late hour Billy joined us.
At the campfire we sang together!
A neighbor of Felizitas came with a bottle of champagne and the words: "How nice it is to listen to you! Such beautiful voices. "
What a joy, when people treat each other lovingly and with great sympathy!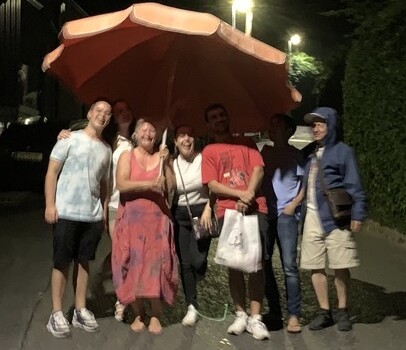 My last expression on Monday will be Felizitas, who accompanied us to the bus stop with a large parasol in the upcoming rain. The photo is bad because of the late hour - but I think the great joy is still noticeable.